Japanese Art & Cultural Center (JACC) in San Jose, California, offers classes in traditional Japanese martial arts (karate, kendo, iaido, kyudo, and aikido), language, and fine arts.
We aim to promote calm, peaceful minds and ways of thinking, as well as to enhance individual integrity, compassionate character, profound awareness, and self-actualization promoting personal, physical and psychological growth and development of each individual, empowering them to live a happier and fuller life. We believe that such well-balanced, decent individuals capable of making correct judgments and compassionate decisions will contribute to advance our civil, prosperous, and peaceful society.
シリコンバレーで誰もが日本の伝統武道、文化、言語を学べる場所
2010年に米国カリフォルニア州サンノゼ市に設立された日本芸術文化センター(Japanese Art & Cultural Center (JACC) )は、古代インドから古代中国を経て日本に伝承され、東アジア地域全体の文化的基盤である禅の思想に基づく日本の伝統的な武道・文化に関心を持つすべての地域住民のために、学び、教えるための場所を提供することを目的としています。
伝統武道の稽古や文化活動を通じて誠実さ、他者への思いやり、高い認知力、忍耐力、向上心と自己実現を求める優れた心を育み、心理的な成長と発達を支援し、幸福で有意義な人生を過ごすために必要な能力を高めることを目的としています。特に、シリコンバレーで幼少期を過ごす子どもたちが日本の伝統文化に触れ、伝統武道の修行を通じて日本文化に対する理解と友好を深め、広い視野と認識力と困難に立ち向かう強靭さと優しい心を合わせ持つ社会人となって、豊かで平和な国際社会の実現に貢献することを願うものです。
How to sign up for our Martial Art Classes
Our class fee options for martial art classes are:
- Unlimited Monthly Pass ($200)
- Once-a-Week Pass ($120)
- Single Class Drop-in ($40)
- 10-Class Pass ($350) NEW!
- Unlimited Family Monthly Pass ($300) NEW!
We use Wellnessliving web portal service. Open the following link to view scheduled classes:

Choose 'Sign Up' to register. If you are a parent, register yourself and then add your child as a family member.
How to sign up for our Japanese Language Classes
We offer both group classes and private lessons (tutoring) in Japanese. Please send an email to japanese@jpnarts.org with your name and describe what you are looking for. One of our Japanese teachers will reply and make necessary arrangement for you.
Welcome to JACC !!

JACC offers the following classes in Traditional Japanese Martial Arts, Language and Culture:
We Always Welcome New Members!
Many of our classes offer FREE TRIAL LESSONS. Please check our class schedule, then feel free to come in and watch or participate in the free trial.
Questions?
Ask the instructor(s) directly. Or, email us at
staff@jpnarts.org
. Email is the best way to contact our volunteer staff members.
We are located at
4334 Moorpark Ave, San Jose, CA 95129 U.S.A.
(
View MAP
) in the
Strawberry Park Shopping Center
between
Tomi Sushi
and
Teaspoons
, next to the
Mitsuwa Japanese Grocery Store
at the corner of
Moorpark Ave.
and
Saratoga Ave.
just off I-280.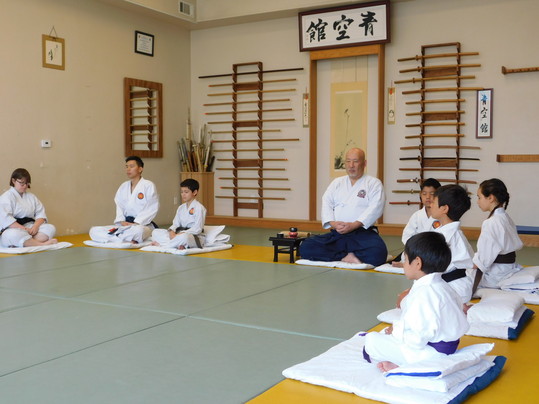 Zazen (sitting meditation)
Cleaning up the dojo after practice
日本芸術文化センターは、主に古(いにしえ)の武家や公家により育まれた禅に基づく日本古来の伝統武道・文化の教育的普及を通じて、心と身体のバランスがとれた人間形成、優れた人格と豊かな人間性を育み、地域社会・日本人コミュニティーのみならず、地球的視野で国際理解と友好を積極的に推進し、思いやりの心と優しさを持ち、世界平和に貢献できる人材の育成を目指しています。特に、海外で教育を得る機会を持つ子供たちが様々な分野で将来の日本のリーダーとして活躍できるよう、平安・鎌倉時代から江戸時代にかけて主に平和な時代に培われた高度な日本文化の伝統を次の世代に伝承したいと考えています。是非ご支援・ご協力をお願い申し上げます。
The dojo floor

Entrance to the dojo

At the Summer Festival

Fusen-tsuri (balloon fishing)

Shaved ice at Summer Festival

Japanese Curry Cook-off

Halloween party

Classroom

Summer Festival

BBQ during Summer Festival

Halloween costumes contest