Welcome to JACC !!

JACC offers the following classes in Traditional Japanese Martial Arts, Language and Culture:
We Always Welcome New Members!
How to Join: Just come to any of our scheduled class hours. No appointment is needed (except for private lessons). Most classes offer a free trial lesson. We also welcome visitors and guests.
Questions?
Ask the instructor(s) directly. Or, email us at
staff@jpnarts.org
. Email is the best way to contact our volunteer staff members.
We are located at
4334 Moorpark Ave, San Jose, CA 95129 U.S.A.
(
View MAP
) in the
Strawberry Park Shopping Center
between
Tomi Sushi
and
Kahoo Ramen
, next to the
Mitsuwa Japanese Grocery Store
at the corner of
Moorpark Ave.
and
Saratoga Ave.
just off I-280.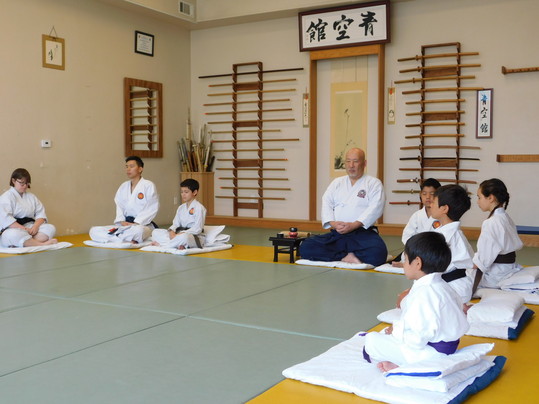 Zazen (sitting meditation)
Cleaning up the dojo after practice
日本芸術文化センターは、主に古(いにしえ)の武家や公家により育まれた禅に基づく日本古来の伝統武道・文化の教育的普及を通じて、心と身体のバランスがとれた人間形成、優れた人格と豊かな人間性を育み、地域社会・日本人コミュニティーのみならず、地球的視野で国際理解と友好を積極的に推進し、思いやりの心と優しさを持ち、世界平和に貢献できる人材の育成を目指しています。特に、海外で教育を得る機会を持つ子供たちが様々な分野で将来の日本のリーダーとして活躍できるよう、平安・鎌倉時代から江戸時代にかけて主に平和な時代に培われた高度な日本文化の伝統を次の世代に伝承したいと考えています。是非ご支援・ご協力をお願い申し上げます。
The dojo floor

Entrance to the dojo

At the Summer Festival

Fusen-tsuri (balloon fishing)

Shaved ice at Summer Festival

Japanese Curry Cook-off

Halloween party

Classroom

Summer Festival

BBQ during Summer Festival

Halloween costumes contest